Lambda RF Roller Chain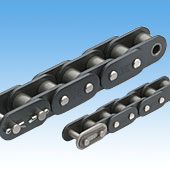 RF Roller Chain for direct conveyance in Lambda specifications. Enables lube-free conveyance.
This roller chain has oval plates, making it perfect for directly conveying goods on the chain.
We reviewed the material and processing that go into our special oil-impregnated bushes, and improved the lubricant, giving it more than twice the wear life over previous products.
Features
Improved the lubricant used in the special oil impregnated bushes.

Used the compliant lubrication to NSF-H1 as special contained bush. It also can be used on food machinery. *

Sprockets

Can use Standard RS sprockets

Operating temperature range

-10°C to 150°C
Reference Number System
Chain size
Chain series: LMC = Lambda Attachment Chain
Dimensions/Specifications
Chain Size + Model
RF35-LMC
RF40-LMC
RF50-LMC
RF60-LMC
RF80-LMC
RF100-LMC
Safety Precautions for Lambda Chain
Do not use Lambda Chain if the chain will come in direct contact with food or where coating flakes or wear dust can contaminate food. Also, in non-food applications, appropriately cover the chain or contact a Tsubaki representative about chain selection if using in environments where coating flakes or wear dust present problems. Though nickel is not subject to the Japan Food Sanitation Law or the Industry Safety and Health Law, plating on sliding parts can peel.
Do not use Lambda Chain where there is the possibility of exposure to chemicals, water, or cleaning/degreasing vapors.
Oil might spatter depending on the usage conditions.
Please be aware that NSF-H1 non-compliant rust prevention oil and assembly oil may be present on the chain.